"Making beautiful memories one stitch at a time"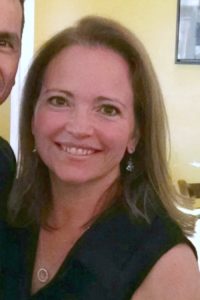 Hello. My name is Paola and I would be honored to create that very special project for you or someone you love.
I have to admit: I really don't like talking about myself. I like my work to speak for me. But that for you to trust me with your personal projects, I should do my best to help you know who I am.
This Is Who I Am
I'd have to save that handcrafting with fabric and thread is in my DNA. I come from a long line of Italian women skilled in needle crafts.
My grandmother, who lived to the amazing age of 98, only wore clothes she made herself for her entire life. Her crochet work was so beautiful, too. She came to the United States in the 60s and worked in a dress factory.
When my mother was young and living in Italy, she was sent to a convent to learn how to embroider everything by hand. She learned her craft and, among other things, put together a beautiful hope chest of linens and finely crafted needlework.
On my father's side, my aunt was mentored by a master tailor and became one herself. Her ability to create one-of-a-kind hand-craft clothing for individuals is so skillful and artful – it leaves me in awe just thinking about it.
As for me, I learned these fine arts throughout my life from family members and our extended family. As a young girl, I would spend summers in Italy where, at the end of the day, I would join the women who would sit together to needlepoint and cross-stitch.
My love for the craft resurfaced after my children were born. I started quilting and got back to embroidery and needlework. Gift-giving, costumes for Halloween and holidays, and making special apparel got me back into the art.
People started to take notice of what I made, and commissioned me to make items for them and their families. They told me that I should start my own business. And so I did.
My Approach
My approach is to combine art with utility. I like to make useful things beautiful, and beautiful things useful. I take pride in the work I deliver and I want to make sure that you receive personal attention for those special projects.
Please contact me and let me know what your special occasion, gift-giving, or decor wishes are. I'll work with you to make you a beautiful memory – one stitch at a time.