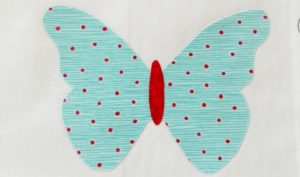 Materials needed: 
quilt block fabric (background fabric)
applique fabric (the blue and red in the photo)
artwork
iron and ironing surface
parchment paper (from the grocery store)
scissors
for NO SEW transfer  Heat-n-Bond Ultrahold iron-on adhesive.  This product allows for a permanent bond without the need for securing the edges with stitches.   Amazon affiliate link
for SEWING transfer  Heat-n-Bond Lite iron-on adhesive.  This product allows you to fuse the applique in place but will need to have the edges sewn in order to be permanent.   Amazon affiliate link
Start with the image you want to transfer.  Trace the shape onto the paper side of the fusible web. (TIP cut the fusible web smaller than your applique fabric  TIP cut a large piece of parchment paper and fold in half like a card.  Place your fabric and fusible web within the parchment card to protect your iron and ironing surface for excess adhesive) Iron onto the back of the fabric you are using for the applique.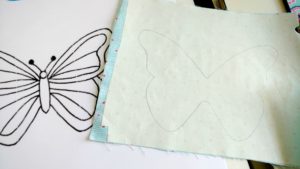 Carefully cut on your drawn line.  Peel away the paper backing on your applique and position on your background fabric.  TIP to remove paper backing either score with a pin or gently fold back an edge to separate the paper from the adhesive.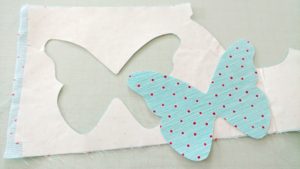 Place your background fabric with the applique in place within the parchment envelope.  Iron to affix to the background fabric.  If you are using the  Heat-n-BondULTRA Hold , you are now finished.