Materials for fabric prep:
Freezer paper (from the grocery store)
Fabric
Iron and ironing surface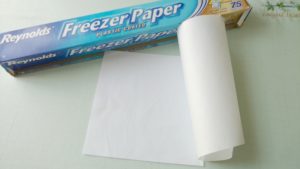 Freezer paper is often used in quilting.   It is used to stabilize the fabric, making it easy to write on the fabric without dragging or distorting the fibers.
Cut a piece of freezer paper slightly smaller than your fabric.  Iron fabric to remove all wrinkles.  Place fabric onto waxy side of freezer paper and iron together.  If you have any wrinkles just peel it back and iron again.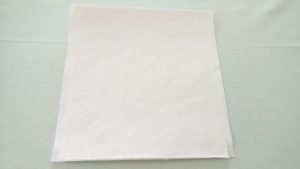 Image Transfer Materials:
artwork
fabric – prepared as per instructions above
marking tool (pencil, crayons, fabric markers Amazon affiliate link, archival pigment pens Amazon affiliate link)
masking tape
Lightbox, backlit device (tablet/phone), bright window, glass table or plastic box with pop light ply place it under your prepared fabric and check to see if you can see it through the fabric and freezer paper.  If you cannot, a light box comes in handy.  No light box, no problem!
Here are some great ways to improvise a light box for ease in transferring your design.
Use a bright window.  Tape your artwork and fabric onto a window and lightly trace using a pencil.
Use a glass table with a lamp placed underneath the table.
Use your tablet or phone as a light box.
Use a plastic tub/box turned upside down with a pop light underneath it